Max Mobility Proud to be Listed as a Top Application Modernization Firm!
Here at Max Mobility, we recognize it can be next to impossible to balance high impact application modernization measures while also keeping in line with your company's goals at large. That's why we're here to help! Being one of the leading Mobile App Development Companies, we operate with the singular vision to help businesses become agile and efficient by automating their business processes with the aid of enterprise mobility solutions, tech solutions, IoT, Virtual Reality, BOTs, and digital marketing strategy. As a fast-growing digital transformation company also doubling as a creative Web Development Company, we strive to be your go-to resource to tap into your company's digital renaissance.
In light of our success and dedication, we've been listed as a top application modernization vendor in India by Clutch, a B2B market research authority. Clutch leverages a one of a kind research formula to compare leaders in the technical services sector. Their site helps connect businesses with their ideal partner through case study like reviews.
We'd like to extend a special thank you to our dedicated clients who helped us earn this recognition. As part of the process, clients take time out of their busy day to engage with Clutch analysts to evaluate the success of vendor contributions. There, service providers are graded on attributes like attention to project management, dedication to quality, and overall efficiency of the process. Next, the transcript of that 15-minute interview call is transcribed for clarity and length by the Clutch team. Finally, a finished case study review is published to their profile along with a ranking out of five stars!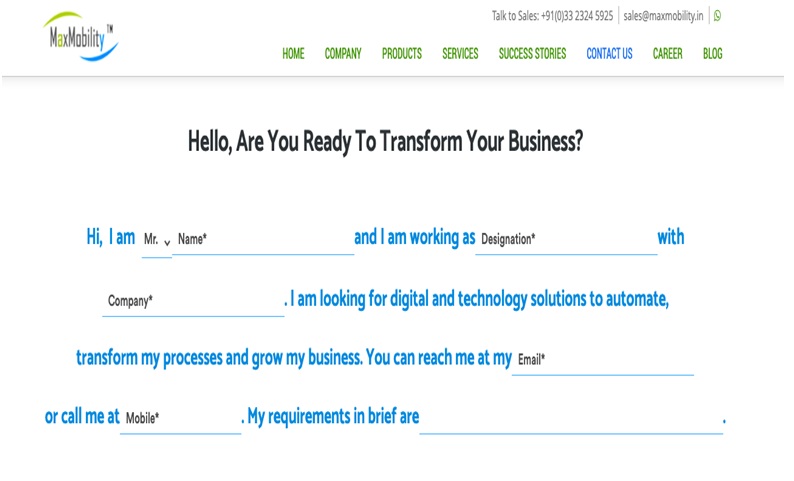 Feedback is really important at Max Mobility. It helps us learn about how our customers feel about our contributions and how we can improve efficiency across our processes. It also helps us phase out old workflows that are no longer effective. Clutch reviews are an especially good source of feedback because of how thorough each one is. Our team only needs to check out our published reviews to learn how to boost productivity. As an added bonus, potential clients can click over to our profile and see testimonials of how good our work is in a particular area.
Aside from Clutch, we've also earned high praise from The Manifest, a B2B business data and how-to-guide resource. They highlight past company projects and detail how they perform against key industry milestones. We're listed on their directory of top application modernization vendors in Kolkata!
We're thrilled to be recognized by Clutch and The Manifest, and look forward to more success in the near future. If you're interested in learning more about how Max Mobility can help you thrive, drop us a line today!